A Place at the Table
A Place At The Table is an interactive table football project that follows the history of women's football both locally and in context to the national and international game. The aim of the project is to celebrate, inform and encourage involvement in women's football. Each table will focus on a point in history that highlights the place of women in football, as well the parallels with the development of rights for women and wider society at the time.
Explore the map below to find your nearest football table and click on the matches listed below to discover the history of each match.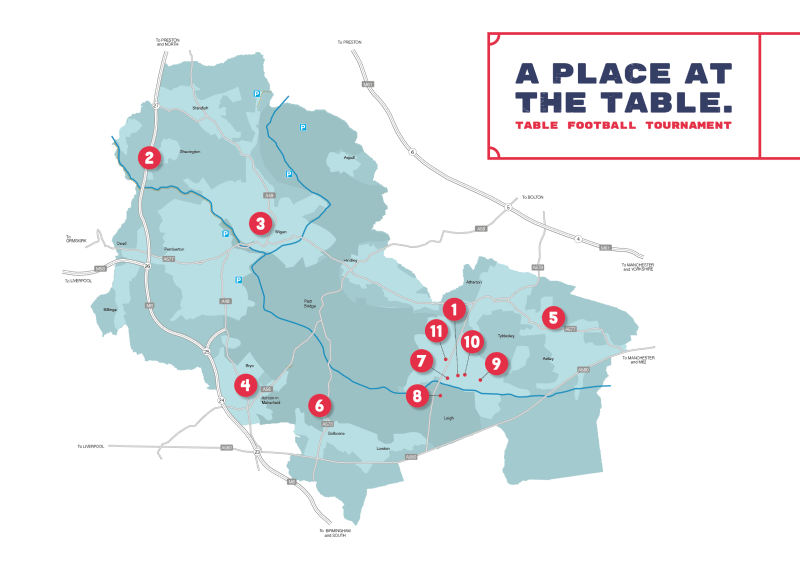 Event details
When: Friday 8th July – Saturday 31st July 2022
Venue: Various locations across the borough:
Leigh and Wigan Libraries: Monday – Saturday, 10am - 2pm
Ashton, Golborne, Leigh, Shevington, and Tyldesley Libraries: Monday - Wednesday , 10am - 2pm,Thursday and Friday, 1pm - 5pm
Leigh Town Hall: Tuesday – Saturday, 10am - 4pm, Civic Square, Leigh
Leigh Market: Monday – Saturday, 9am - 5pm, Gas Street, Leigh
Spinning Gate Shopping Centre: Monday – Saturday, 9am - 5pm, Ellesmere Street
Leigh Leisure Centre: Monday – Friday, 6.30am - 10pm, Saturday – Sunday, 8am - 4pm
Cost: Free